Joint Press Statement of Ethiopians and Eritreans in Switzerland, organizers of the rally in Geneva on the 25th of November 2021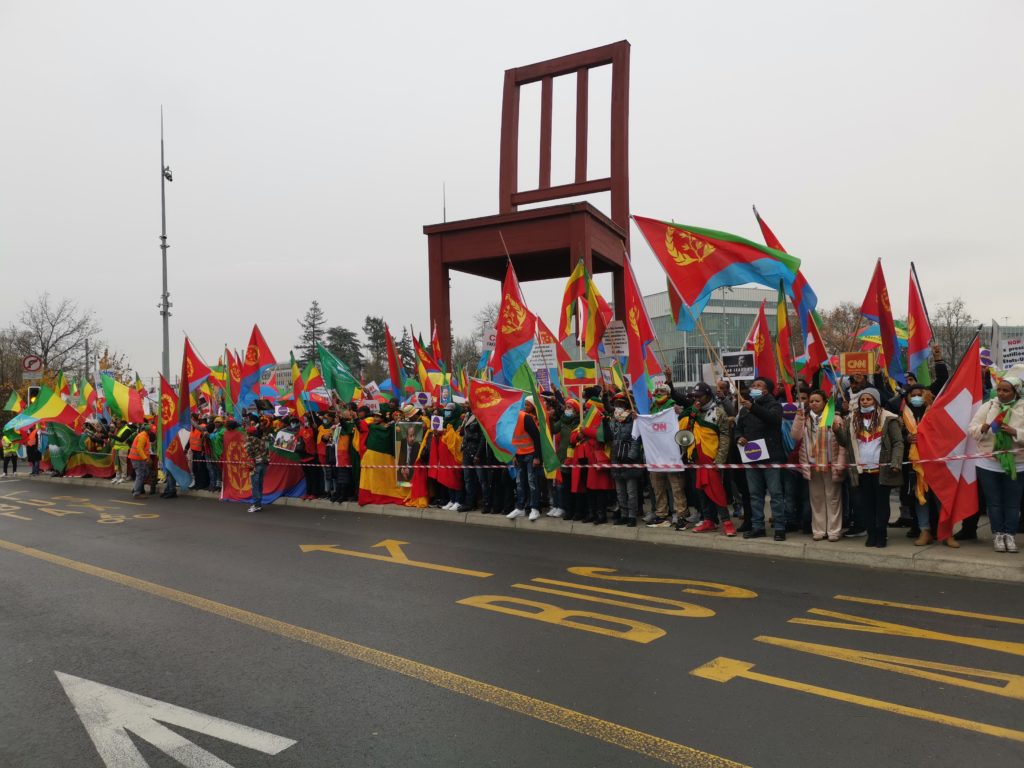 Ethiopians and Eritreans in Switzerland demonstrate to express their dismay and deep concerns on the hostile policies of the United States and the EU member states political stance on the situation in Ethiopia
We, Ethiopians and Eritreans in Switzerland, having peacefully rallied on 25th of November, 2021 at Place des Nations in front of the United Nations to express our concern on the policies relating to the current situation in Ethiopia.  We extend this call to all peace-loving citizens to join our appeal and condemn the attempts to destabilize Ethiopia through emboldening the criminal clique. We are equally concerned about the scapegoating and demonization of Eritrea to cover up the crimes of the terrorist group.
We wish to draw the attention of the permanent Mission of the United States and the Permanent Delegation of EU in Geneva, the High Commissioner for Human Rights and the diplomatic community in Geneva on the following facts:
In November 2020, after rejecting all proposals to resolve differences through peaceful dialogue, the TPLF launched a war against the Ethiopian people. The current war in Ethiopia   is  therefore, the  consequence of a terrorist attack on the Northern Command of the Federal Forces that comprises 80 percent of the whole military of the Federal State and the indiscriminate rocket shelling to several Eritrean cities to reverse, the political change of  2018 and sabotage the peace deal as it relates to both countries.
Clearly, the war is between the overthrown former tyrannical Tigray Peoples Liberation Front (TPLF) and the democratically elected government of Ethiopia. The twin objective of the Terrorist Group is to either re-impose its rule or break Ethiopia into small states that would find themselves in an endless war.  The continued belligerent moves beyond the Tigray region to the Afar, Amhara region and ultimately to the capital despite the unilateral ceasefire by the government is a proof to that effect.
In the Afar and Amhara regions, the clique has targeted civilian population with indiscriminate killings, gang rape, destruction of infrastructure and looting and/or killing of domestic animals.
In this war, the position of the EU, USA and UN is appalling and shocking to say the least. They repeatedly and unduly condemned the Governments of Ethiopia and Eritrea and imposed economic sanctions, without saying a word about the TPLF and its destructive actions in spite of its appalling human rights record. It is difficult to understand such a biased position given the complex nature of the conflict in Ethiopia which requires a nuanced analysis and understanding of the historical context. The overt sympathy and active support, including via NGOs and media, of the United States and EU Member States, to armed insurgency against a duly elected government is difficult to comprehend.

We are dismayed by the reports of atrocities, by the consequences of this war on the civilian population including forced displacement, fears of famine as well as the trauma that war engenders, especially for women who are victims of rape. While we appreciate that the United Nations Office on Humanitarian Affairs and the World Food Program efforts to address the humanitarian crisis in the country, is imperative, that they remain impartial and refrain from using aid as a means for advancing local political agendas. Moreover, by objectively analyzing the genesis and context of this crisis, they should stop providing covert support to the TPLF, embolden this terrorist group and prolong the conflict and suffering.

We are outraged by the information warfare on Ethiopia by mainstream media organizations, NGOs and social media platforms. These establishments are engaged in cover-ups, exaggeration, sensationalizing unconfirmed news or outright fabrication of information with the aim of exacerbating the suffering of Ethiopian people and discrediting the elected government of Ethiopia. Many are also determined to silence reasonable Ethiopian voices and media outlets while allowing or echoing propagandist messages of the TPLF and its agents.

Therefore, we, organizers of the demonstration, as determined children of Ethiopia and Eritrea in Switzerland. C

1. all on the international community in general, and the United States and European Union in particular, to be part of the solution but not part of the multifaceted problems in the Horn of Africa.   Stop the undue pressure on the governments of Ethiopia and Eritrea and respect the voice of the Ethiopian people on the basis of US and EU's fundamental principles and values, which include democracy, rule of law, and human rights.

Acknowledge the joint investigation report by the Ethiopian Human Rights Commission and the UN Human Rights Office which found that there were no signs of genocide nor systematic blockade of aid a weapon of war.

Call on the High Commissioner for Human Rights to bring its institutional capacity to initiate an impartial, independent joint investigation with the Ethiopian Human Rights Commission on human rights violations committed by the TPLF in the Afar and Amhara regions in order to establish responsibilities and bring those accountable to justice.
Denounce the recent formation of an alliance of armed splinter opposition groups organized by the TPLF and likely sponsored by the USA to overthrow the democratically elected Ethiopian government.
Call on all peace-loving Swiss citizens to support the democratic process in Ethiopia and the rights of its people to elect its leaders and live democratically in peace.
Call on media corporations and their journalists to make sure that their reports on the situation in Ethiopia are judicious, balanced, objective and factual. We also urge social media platforms to be objective in dealing with Ethiopian and Eritrean voices.

Associations of Ethiopian and Eritrean Communities in Switzerland

To: Permanent Mission of the United States of America to the UN and other International Organizations in Geneva, Office of the UN High Commissioner for Human Rights (OHCHR), Permanent Delegation of the European Union to the United Nations offices

Cc: All Permanent Missions in Geneva, All Swiss Press