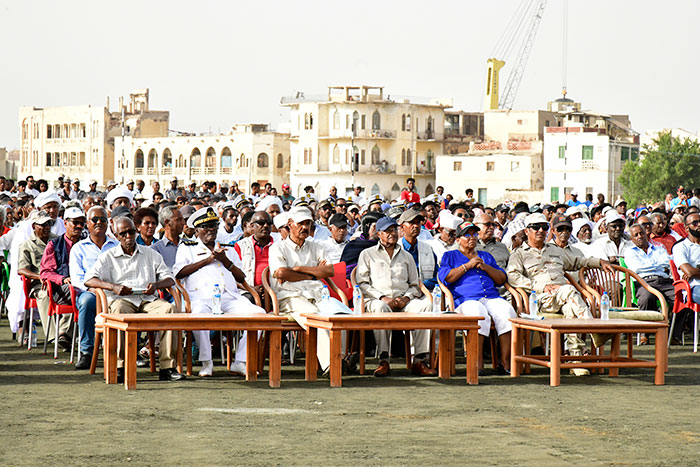 The official ceremony of the commemoration of the 33
rd
 anniversary of Operation Fenkil was conducted today 11 February with enthusiasm under the theme "Fenkil-Resolute Commitment".
At the official ceremony that was attended by President Isaias Afwerki, Ministers, Government and PFDJ officials, Army Commanders and a number of nationals, the Governor of the Northern Red Sea region, Ms. Asmeret Abraha indicated that Fenkil Operation in which the Eritrean Popular Forces demonstrated integrated land and sea strategic operation is being commemorated every year by the Eritrean people with patriotic zeal.
Ms. Asmeret went on to say that the 33rd anniversary of Fenkil Operation commemoration is unique for it is being commemorated at a promising stage and expressed expectation that it will be transferred to posterity.
Ms. Asmeret also commended the Government and PFDJ institutions as well as the public, members of the Eritrean Defense Forces and individuals that contributed for the colorful commemoration event
The Chairperson of the Holidays Coordinating Committee in Northern Red Sea region, Ms. Zeineb Omar, on her part commended those that contributed for the colorful commemoration event.
The event was highlighted by sports competitions, exhibition, cultural and artistic performances, and community gatherings.
The 33rd anniversary commemoration of Operation Fenkil will continue until tomorrow, 12 February.