President Isaias' speech at the opening of the 5th National Youths Festival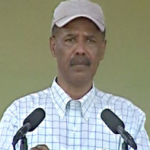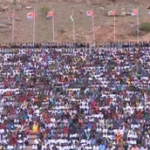 Sawa, 13 July 2012: – I would first like to congratulate the participants of the 25th round National Service, parents and trainers, as well as all those participating in the event. I would also like to point out that occasions like Independence Day, Martyrs Day and other significant events that take place in Sawa, including the graduation of National Service batches, are moments when we ascertain that the trust of martyrs is
honored in deeds besides renewing our pledge. Due congratulations also go to the trainers.
During occasions like the present one, it is logical to ponder on ways of advising the graduating batch of youths as regards the national responsibility they shoulder; The fact remains, however, that over the past 21years they have lived up to the high responsibility entrusted them in line with the supreme duty of honoring the trust of martyrs, and safeguarding the nation's sovereignty, in addition to laying firm ground for the nation-building process.
Similar to previous NSP participants, the present batch equally bear the responsibility of living up to expectations as regards safeguarding the nation's sovereignty, combating anti-Eritrea schemes and ensuring all-round national progress.
Victory to the Masses!