Mourning Nipsey; the Artist and the Man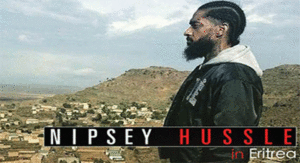 By Natnael Yebio W.
"More than anything I am proud of being Eritrean. The history of our country, our struggle and the underdog story, the resilience of the people and our integrity is something that I feel pride in being attached to" Ermias Asgedom
God takes one of his favorite sons.
Blessed are the dead who die in the Lord from now on. They are blessed, indeed, for they will rest from their hard work; for their good deeds follow them!
Monday morning the world woke up to the tragic death of Ermias Asghedom, better known as Nipsey Hussle. Nipsey was shot multiple times outside his LA Marathon clothing store and was pronounced dead after being rushed to hospital.
At the moment I'm finding it hard to put my thoughts into words but I'll try. It was during my 1st year in college back in 2009 that I found out about Nipsey Hussle, through his hit debut single 'Hussle in the house'. Back then for me and my roommates that single was on top of our playlist. We listened to it on our way to class, to the cafeteria, in the football fields and the dorm. His music spoke to us and at every chance I got I made sure to tell my friends.
"Got to listen to this man" I say……. "He is Eritrean by the way" I would add.
Ermias Asghedom was born on August 15, 1985 and raised in the Crenshaw neighborhood of South Los Angeles, USA. Born from an Eritrean father and an African American mother, Ermias was a hard working person from an early age, cutting grass and shining shoes to make extra cash as a kid before falling in with local gangs Rollin 60's Neighborhood Crips.
In a 2018 interview with the LA Times he had this to say about the gang culture that plagued black neighborhoods: "I grew up in gang culture; we dealt with death, with murder. It was like living in a war zone, where people die on these blocks and everybody is a little bit immune to it. I guess they call it post-traumatic stress, when you have people that have been at war for such a long time. I think L.A. suffers from that because it's not normal yet; we embrace it like it is after a while."
As Nipsey was influenced by successful artists such as Ice Cube, Snoop Dogg and Tupac, music & technology became an outlet and a way to escape what most called a death trap of gang life. It was in 2005 that Nipsey put out his first mixtape titled Slauson boy V-1. In 2008, after signing with Cinematic Music Group and Epic Records, he released another mix Bullet's Ain't Got No Name, Volume 1 and 2. However, it was in 2009 that he released his debut single Hussle in the house; with that single Nipsey made his way into my playlist and hasn't left since.
I have always said that artists, after God, are the only real creators in the physical world. In fact they have the capacity to become co-creators along with the divine, if they can put all their intelligence and their utmost efforts to produce a work of art.
Scientists may invent or modify. But what is assumed as invented is something that was already there, in the physical world, and it is simply discovered by the tenacious and the persistent worker who works at it out of necessity.
The artist doesn't work, like the inventor, out of necessity, but from sheer inspiration. And the ingredients that the artist makes are not of this world. The artist doesn't invent or modify. He/ she simply creates. The music of Beethoven and the paintings or sculptures of Michelangelo are works of art of the highest degree and they are physical representations of spiritual truths.
If artists are, therefore, the medium through which the creator expresses one of his attributes in the physical worlds, then they should give serious heed to their call or vocation and pass the 'aesthetic message' in its purest form. They should never take their work lightly and should consider themselves as endowed with a divine power to change the hearts of humankind.
Nip was a god in this sense; he was the embodiment of Eritrean/ black hard work. He never took the easy way out. Hussle visited Eritrea twice in his lifetime: first as an 18-year-old when he spent three months and most recently in April 2018. During which he got a chance to reconnect with his roots and even met with President Isaias Afwerki.
Chris Lyons, who knows Nip, said, "He was never trying to be independent for the sake of it; he simply knew the benefits of being an independent artist." No outside influence on what you make whatsoever.
Hussle was trying to make it on his own. Nip once said "My thing is that I don't give no person that much power over my path that I'm walking. Not one person can make or break what I'm doing, except me or God.
In talking with the LA Times he had this to say, after creating his #Proud2Pay movement "It ISN'T the price of the plastic case and polyurethane disc," he said at the time, "it's the price of Revolution! The price of rebellion against an industry that has tricked us all into making products that have no soul, for fear of not being heard if we don't."
It was in 2010 that he created his own record label, All Money In and proceeded to record and release his mix tapes The Marathon and the Marathon continues, with famous rapper YG and American rock band MGMT featuring in the mixes.
In 2013, Nipsey released another mix titled Crenshaw, selling 1000 copies at $100 each from which Jay-z bought 100 copies. The mix which included Blessings, All get right, Face the World and others was sold out within 24 hours.
However, it wasn't until last year that he released his proper debut studio album, "Victory Lap," through Atlantic Records, in collaboration with his own record label 'All Money In'. The album debuted at No. 4 on the Billboard chart and was nominated for best rap album at the Grammys. When the album was dropped, Nip once again defied convention by rolling out the album across eight months, which is a testament to how much he knew how to market his own music.
Beyond music he helped his community. In an industry where the norm is to move out to a better neighborhood, new house, and new rolls once you make it, Nip stayed put to inspire. The highest human act is to inspire, he said once. And he stayed true to his word. He stayed in Crenshaw to motivate, to rebuild, to develop his community. According to Marqueece Harris-Dawson, a city council man who represents South LA, he said Nip was the inspiring figure behind #DestinationCrenshaw, which is a project created to promote black cultural history.
According to an article published on Forbes magazine last month, Nipsey and business partner Dave Gross had bought a plaza on West Slauson Avenue for a couple of million dollars with a view to knock everything down and rebuild it as a six-story residential building atop a commercial plaza where a revamped Marathon store would be the anchor tenant. Nipsey diversified his portfolio across a music label and The Marathon Clothing store, to his Marathon Agency, a talent and marketing company, and his Proud 2 Pay campaign, an unorthodox means to distribute his music that paid dividends.
Two years ago he opened Vector 90, a co-working space and STEM center. The centre is partly dedicated to calling attention to the lack of diversity in the science, technology, engineering and mathematics fields with the hope to serve as a link between underrepresented groups and corporate partners in Silicon Valley and beyond.
Nip's interest in technology began when he started to record. Because he wanted to record himself, he got into computer auctions and collected enough parts and eventually learned how to build a computer from scratch. He learned how to use software and began recording himself. It is that inspiration and dedication that led him to open this particular space for young kids who excel in science but lack the resources to pursue it. "There's a narrative that says, 'Follow the athletes, follow the entertainers.' And that's cool but there should be something that says, 'Follow Elon Musk, follow Zuckerberg," he said during an interview.
Above all, through his music and business, he wanted to play a role towards preventing gang violence. According to Steve Soboroff, the Los Angeles police commissioner, Nip had plans to meet on Monday afternoon with representatives from Jay-Z's Roc Nation and officials from the Los Angeles Police Department to talk about gang violence.
Over the course of his music carreer Nip teamed up with dozens of successful artists, including Kendrick Lamar, Drake, YG, Ty Dolla Sign, Meek Mill Young Thug, Drake, The Game, Snoop Dogg, Childish Gambino and Rick Ross, who all came out to pay tribute in the wake of his untimely and tragic death.
This was a man loved by his community and peers. Complex magazine said he was changing the artist archetype, CNN called him a Movement, Billboard wrote a man whose business moves were ahead of his time, the Guardian dubbed him a Hip-Hop Samaritan, New York Times called him an activist and the LA Times said his lyrics are designed to be recited the world over.
Nipsey was ours; we saw a lot of us in him. His is a life cut too short and it will take us a very long time to accept it if we ever do that is.
On behalf of the Eritrean people, Eritrea Profile, and I and those raggedy roommates from college who used to lit up the dorm with 'Hussel in the house', rest in peace Ermias. To his partner and kids we send our heartfelt condolences and prayers.