Ethiopia , Kenya leaders arrive in Eritrea for tripartite talks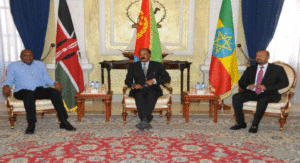 Kenya's President Uhuru Kenyatta and Ethiopia's Prime Minister Abiy Ahmed have arrived on separate flights earlier on Sunday in Eritrea's capita, Asmara.
Eritrea's President Isaias Afewerki has warmly welcomed the two leaders at International Airport in Asmara.
The three leaders will discuss timely regional issues in a Tripartite Summit today while bilateral matters will also feature in separate meetings.