Danakali's world-class Colluli Potash Project has potential to boost Eritrea's economy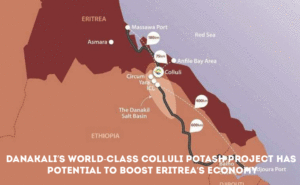 United Nations report has identified the project's potential to enhance delivery of sustainable development goals.
Danakali Ltd's (ASX:DNK) (LSE:DNK) (FRA:SO3) (OTCMKTS:SBMSF) Colluli Potash Project in Eritrea has the potential to significantly boost the East African country's economy.
An independent report initiated and funded by the United Nations Development Program (UNDP) also finds that Colluli can meaningfully advance Eritrea's sustainable development agenda.
Report prepared on behalf of UNDP
Titled 'Analysis of the Potential Contributions of Colluli Potash Project to Sustainable Development Goals in Eritrea', the report was prepared during 2018 by senior economists on behalf of the UNDP.
It assesses a wide range of econometric data and includes findings from engagements with Eritrean government officials, relevant public institutions and other Colluli stakeholders.
Danakali executive chairman Seamus Cornelius said the report reinforced the uniqueness of Colluli and the company was grateful for the effort and energy that went into the report.
"We appreciate the magnitude of the opportunity and the responsibility that comes with developing an asset of this significance with the potential to improve the lives of millions.
"Colluli is much more than a great mining asset.
"Not only does it have outstanding grade, size, location and simplicity; Colluli's products will also help farmers and support food security in Eritrea, across Africa and beyond."
Colluli is owned by the Colluli Mining Share Company (CMSC), a 50:50 joint venture between Danakali and the Eritrean National Mining Corporation (ENAMCO).
The project is about 75 kilometres from the Red Sea coast, making it one of the most accessible potash deposits globally and mineralisation begins at 16 metres, making it the world's shallowest deposit.
Amenable to open pit mining
This also means the resource is amenable to open pit mining, allowing for higher overall resource recovery; is generally safer than underground mining; and is highly advantageous for modular growth.
Colluli is about 75 kilometres from Eritrea's eastern Red Sea coast.
The project has an ore reserve estimate of 1.1 billion tonnes grading 10.5% potassium oxide for 203 million tonnes of contained sulphate of potash (SOP) equivalent, providing a mine life of almost 200 years.
Cornelius said: "The report effectively highlights the alignment between Danakali and, our partners, ENAMCO in ensuring the project is successfully executed.
"We look forward to working with ENAMCO to ensure Colluli reaches its full potential for the benefit of all stakeholders."
Enhance delivery of UN goals
The UNDP, which is one of the largest UN development partners in Eritrea, has identified Colluli as a strategic opportunity to enhance the delivery of the UN Global Goals for Sustainable Development in Eritrea.
These goals are a collection of 17 global goals set by the UN and cover a broad range of social and economic development issues.
They include poverty, hunger, health, education, climate change, gender equality, water, sanitation, energy, urbanisation, environment and social justice.
UN Global Goals for Sustainable Development and Colluli.
"Direct impacts in Eritrea"
Cristian Parra, joint author of the report with Dr P Anand, said: "Colluli can be an important source of direct impacts in Eritrea.
"Because of these impacts and Danakali's and CMSC's corporate policies the project has the potential to generate significant positive effects on the Sustainable Development Agenda of Eritrea, in particular on 13 specific Sustainable Development Goals.
"The final effects on Sustainable Development Goals will be highly connected to fiscal impacts and effects that will be generated by Colluli's final products.
"From a global perspective the project is a very interesting case and can be considered a significant step ahead in terms of the relationship between the resource industry and the development agenda of the host country, and how to understand mining contributions beyond the traditional direct economic effects."
SOP price premium
CMSC has completed a Front End Engineering Design (FEED) for the production of SOP, a chloride free, specialty fertiliser which carries a substantial price premium relative to the more common potash type of potassium chloride (MOP).
Economic resources for production of SOP are geologically scarce.
The unique composition of the Colluli resource favours low energy input, high potassium yield conversion to SOP using commercially proven technology.
One of the key advantages of the SOP resource is that the salts are present in solid form, in contrast with production from brines, which reduces infrastructure costs and the time required to achieve full production capacity.