Implementation of set government projects for 2013 would go into effect: President Isaias
In brief remarks he made on the 18th of December 2012, at the Second National Investment Conference at Asmara Palace Hotel, President Isaias Afwerki said that the implementation of set government-sponsored projects for 2013would go into effect. Commending the contribution of nationals inside the country and abroad in the nation-building process over the past
20 years, the President noted the paramount importance of keeping intact such a national asset.
Meanwhile, in briefings they gave to Conference participants regarding investment prospects in the domains of agriculture, tourism and industry, the regional Administrators expressed readiness to collaborate with investors.
The potential investors on their part put forth views and opinions as regards the projects set for implementation in 2013, and expressed support to such public ventures. Moreover, they voiced optimism that the nation would attain significant economic development in the years ahead on the basis of integrated investment by citizen entrepreneurs at home and abroad.
A number of research papers were presented at the Second National Investment Conference here in the capital with a view to providing participants with the necessary information pertaining to investment opportunities and prospects in the Homeland.
The papers presented in the two day conference highlighted ways and means of fostering citizens' participation in the national economy, fiscal policy, investment prospects relating to agriculture, manufacturing and tourism, as well as investment of pension fund. The papers also dealt with enhancing women's role in national entrepreneurial activities.
The Conference participants on their part conducted extensive discussion on the papers presented and put forth views and opinions as regards the need to conduct the necessary study concerning the effective harnessing of fishery resources, the upgrading of taxation
method, extending investment opportunities in the tourism as well as transport sectors, and the transfer of government-owned service businesses to the private sector,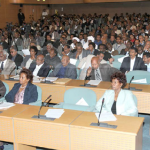 Moreover, the participants voiced satisfaction with the Government's acceptance of the views and opinions they presented at the First National Investment Conference and the decision it subsequently made to take practical action in 2013. They further asserted that such action would give added impetus to their investment ventures.
It is to be recalled that the Second National Investment Conference opened on the 17th of December 2012, here in the capital under the theme: "Popular Development, by the People to the People."
In an opening speech at the conference in which more than 700 citizen entrepreneurs residing in the country and abroad are participated, Dr. Woldai Futur, Head of the National Investment Center, said that such impressive participation attests to the prevalence of spirit of nationalism among the citizenry and their abiding attachment to the Homeland. He further gave detailed briefings regarding national investment policies and the new prospects to this end.
In a statement he presented pertaining to national fiscal policy, the Minister of Finance, Mr. Berhane Habtemariam, indicated that the Eritrean government would make adjustments in this regard with a view to ensuring economic growth through encouraging investment. Accordingly, preparations are being made to implement the adjustments as of the beginning of the year 2013.
Meanwhile, the Conference has concluded with the adoption of recommendations on the 18th of December 2012.