Funeral service of veteran fighters Mebrahtu Tekleab, Amanuel Haile and Desu Tesfatsion conducted today at Asmara Patriots Cemetery with patriotic zeal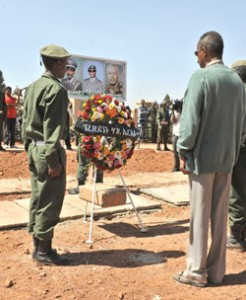 Asmara, 26 March 2014- The funeral service of the late veteran EPLF fighters Brg. General Mebrahtu Tekleab, Brg. General Amanuel Haile and Mr. Desu Tesfatsion has been conducted today at Asmara Patriots Cemetery with patriotic zeal in the presence of President Isaias Afwerki, Ministers, Senior Government and PFDJ officials, Army Commanders, religious leaders, family members and thousands of nationals.
The funeral ceremony has been accompanied by Marching Band that marched from Shida Statue to the cemetery. Brg. General Tekie Russom presented the memoir of the late EPLF Veteran fighters.
President Isaias Afweki, Mr. Alamin Mohammed Seid, Secretary of PFDJ, General Philipos Woldeyohannes, Chief of Staff of the Eritrean Defense Forces laid wreath in honor of the late veteran fighters.
Veteran fighter Brg. Mebrahtu Tekleab (Vaynak) joined the armed struggle for independence in 1969,
veteran fighter Brg. General Amanuel Haile (Hanjema) in 1973 and veteran fighter Desu Tesfatsion in 1947. The veteran fighters served their people and Government with dedication in different capacities. They passed away on 20 March in a car accident while they were on their way to Mahmimet to participate at the 30th anniversary celebrations of the demise of Wuqaw Iz.
The Government of Eritrea conveys message of condolence to the family members and the citizenry in connection with the passing away of the late EPLF veteran fighters.