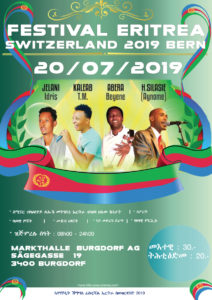 Eritrean Festival is a cultural festivity week in Eritrea which was started in 1974 in Bologna, Italy by the Eritrean community in the Diaspora. The first Eritrean Festival in the free and independent Eritrea started in August 1992 and It is celebrated annually at the "Expo" ever since. "Bologna" is perhaps the most well-known of the Eritrean Festivals in the Diaspora. Since then it has been spread to all angles of the .
The Eritrean Festival became a focal point for Eritreans not only in Eritrea but moreover Eritreans living in the Diaspora. This colorful event is shaped by all kinds of cultural shows that commemorate the diversity of the Eritrean ethnic groups.
One of the goal is to introduce Eritrea, its people and to build the cultural bridge to swiss and its wider audience. Moreover it brings together all Eritreans to commemorate and highlight Eritreas diverse culture. Therefore the cultural program in music and entertainment has been brought by mutli-culture especially through various multi-ethnical music and dance shows. It offers a platform to display and foster its cultural identity by literature, poetry, shows, educational seminars and discussions.
Our  Eritrean Festival offers a wonderful and significant opportunity to introduce Eritrean cultures and traditions, to meet and share with Eritreans from all over Europe especially Swiss. It will provide participants a fun and creative environment for networking and discovery. The audience will get a glimpse into Eritrean culture through colorful cultural performances, music, dance, exhibitions, bazaar shops, educational seminars, discussion forums, sports as well as specified activities for children & youth.
The Eritrean  Community in Switzerland will host 20 July 2019 at Bern.