Fenkil Celebration in South London UK – 2013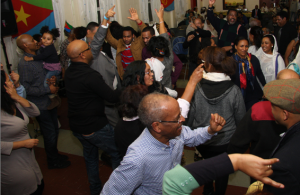 On Saturday February 09th, PFDJ South London Chapter held the annual Fenkil event to commemorate the 23rd anniversary of the liberation of the city port of Massawa.
This highly successful event was celebrated by Eritreans in South London with great patriotic zeal and registered an encouraging number of Youth in attendance.
Operation Fenkil is a symbol of the Eritrean people's steadfastness against occupying forces and a gateway to the country's independence. They further indicated that commemoration of the historic event should always depict such phenomena.
The celebration included the participation of H.E. Tesfamicheal Gerhtu, Ambassador of Eritrea to the United Kingdom and Ireland.
The Ambassador welcomed and appreciated all the efforts of PFDJ members in their role and participation for their unwavering resolve to defeat the illegal sanctions and continued efforts to this cause.
Ambassador Tesfamicael Gerahtu, called on all PFDJ members to reiterate pledge in honor of martyrs and reinforce participation in nation building.
The event included songs, peoms and dances performed by cultural artists from London.
Eritrea Embassy Media UK
London 09/02/2013