AID: An Instrument, Not a Gift
Seare Habtemichael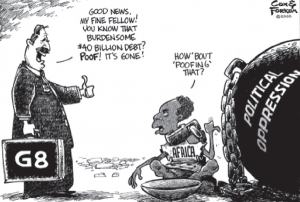 It is said that Africa has immense natural and human wealth. The continent boasts of rivers, lakes, geothermal potential, mountains and oil deposits among others. Although the continent is generally dry, it has a reasonable number of rivers and groundwater. This being the fact, the continent has the highest concentration of low-income countries of the world. It is the least developed region, the most affected by the scourge of HIV/AIDs and disease, hunger and famine, among other key challenges.
Again, despite resourceful, based on studies, the continent is still experiencing economic downturn and the population hardly benefit from the resources. But then who is to blame for this? Why is Africa suffering from poverty and dependency? Reports have analytically revealed that AID and dependency as the devastating causes of poverty in the continent. If so, why is Africa dependent on AID? What has AID done for Africa over the past six decades of years? What really is its impact?
To begin with the facts, it is estimated that tens of millions of people in East Africa and the Horn of Africa are currently facing critical food shortages "owing to a prolonged drought, and bad governance." As a matter of fact many African countries are dependent on AID. In fact, in some African countries the practice of begging for food from the West every year has become a chronic disease.
Ethiopia, for instance, has embarrassed Africa; it has made Africans lose confidence and hope in the continent. For the last three decades, millions of Ethiopians have depended on food AID from the donors. Each year, according to reports, regardless of harvests or rains, at least five million Ethiopians need food AID for six months to survive; otherwise, their fate is known – starvation. For that reason, millions of tones of wheat are shipped and trucked into the country from the West. However, based on studies, AID is never the solution to Ethiopia or to the poor continent in general.
Scholars argue that AID to Africa has often meant more poverty. Calls for more AID are drowning out pressure for action that would really make a difference for Africa's poor. Rather than doubling AID to Africa, it is time to reduce AID dependency. An Ethiopian farmer, at one time, is said to have joked to his friend saying, "It is not the rains in Ethiopia you need to worry about, but whether it rains in America or Canada." This signifies the paralyses of African minds, and the addiction to AID.
In a literature review carried out for the Overseas Development Institute, Moses Isoba of Uganda's Community Development Resource Network found that, 'A majority of civil society actors in Africa see AID as a fundamental cause of Africa's deepening poverty.' Rather than accepting the simplistic notion that more AID equals less poverty, we need to look at the evidence, Isoba added.
In a book entitled: The Trouble With AID: Why Less Could Mean More for Africa, the case becomes even more pertinent. As donor governments look for ways to cut expenditure on non-priority activities, some campaigners will shift away from a call to double AID to Africa, towards trying to ensure that AID at least does not begin to tail off. But to continue to focus on AID would be to ignore the mistakes of the past, and to miss the opportunities presented by the present context. Campaigning for more AID should be a low priority for those concerned about poverty reduction. Thus, most analysts on the African continent do not share the optimism that AID is making a big difference to the lives of poor Africans.
As a writer by the name Demba Moussa Dembele also once pointed out: AID is an instrument, not a gift. For many Western countries and institutions, it plays a key role in their overall strategy to maintain and even expand their influence in Africa. The money paid out as AID goes mainly to foreign-controlled enterprises and AID flows are used to buy goods and services from donor countries. And the worst is that the cost of complying with conditions imposed by donors and lenders is intolerable; it undermines the recipient's political sovereignty. In addition, much of the so-called AID given by Western countries and the loans made by multilateral institutions are not based on developing countries' real needs, nor on any performance criteria, but primarily on the interests of 'donors'. Hence, the policy conditions attached to AID have arguably had greater consequences in the lives of Africans than the direct impacts of the way the money has actually been spent.
Reports indicate that within a couple of decades the whole economic direction of the continent has changed, largely as a consequence of AID, and while some people have gained, many more have suffered as a result. But now the credibility of donor countries to insist that recipients adopt certain economic policies has been severely undermined.
Besides, Dambisa Moyo, the author of the book DEAD AID has noted on dependency from the market point of view. She says that the failure of these donors to properly regulate the financial markets is the main cause of the current global meltdown. Meanwhile western governments have elaborated huge spending plans not only to nationalize banks, but also to protect key industries from collapse – policy options effectively denied to African countries facing far greater crises in the last few decades, at the insistence of these same governments. One of the key calls scholars make is that the arrogance with which a specific set of liberal economic policies are being imposed on Africa must stop, and that the coming decade must be a decade of policy freedom, in which African governments are allowed to govern as they see fit.
It is however generally agreed that shortcomings in the effectiveness of African governments in recent decades have been a major part of the problem of low or negative growth and insignificant poverty reduction. What is less discussed, but is becoming increasingly clear, is that dependency on AID from foreign donors has undermined the development of the basic institutions needed to govern. Thus, AID produces corruption on a higher scale.
Dambisa Moyo, for instance, shows a strong correlation between increasing AID dependency, corruption, and the nature of government structures in many African countries. Thus, according to Moyo, as many African governments rely on AID, they do not show any will to find other means to bring their economy on the right track. As there are no organic links between the government structures and the masses, governments rely more on repressive measures to hold down any resistance from the masses. However, irrespective of bad governance, human rights abuses, and mass scale corruption, Western governments continue with their AID programs. Scholars have pointed their finger at Ethiopia as this issue is raised.
Writer Fekadu Bekele , for instance, has noted that the government in Ethiopia is a good example that fits with the above argument. Why are donor countries not interested in fair election, good governance and accountability in the country? They have been financing a regime over the last 20 years which is disliked by over 90% of the population, and which is engaged in mass killings and practices ethnic policies, which again leads the country to civil wars. This the matter that has to be seriously addressed.
What's more? Continuous AID dependency has also incalculable social consequences. As many African governments do not feel responsible for their people, they do not have social programs or any agenda to use the available human resources wisely. Due to false investment priorities and concentration in few cities, the cities are overcrowded and are becoming breeding grounds for criminality and social upheaval which cannot be easily controlled. The mass immigration from the rural areas to the cities has created on one hand new social structures which are not productive and creative, on the other hand social ties which have existed for generations are broken.
Additionally, as such governments could not create economic structures which create job opportunities for the masses, and do not generate sufficient income, the saving and buying capacity of the masses are very low. In this case governments do not have wide tax base with which they could finance infrastructures, support small and medium size industries, and give special subsidy for social programs which tightens the community together. In short, AID dependency creates indifference, loss of creativity, non-self reliance, and social irresponsibility which ultimately ruin the entire social fabric of a given country. It is certain that in many countries AID has done more harm than good. If so, what does Africa need to be weaned from AID dependency? How can Africans confront these dependency-imposed impairments?
Dambisa Moyo, suggests that rather than seek more of it, most African governments should set out plans to reduce the amount they receive over the next decade or so. Even when it is playing a positive role, which it certainly can sometimes, AID is far less important than a whole range of other measures rich governments need to take to support development in Africa. Campaigners should spend their limited time and resources on more important issues that would make a substantial and sustainable difference to Africa. She furthermore considers that African countries have ample opportunities to develop their economies. African countries should follow the examples of Asian countries. First of all, they have to turn their back on Western AID, and strengthen their ties with more friendly countries. According to Moyo, China could be a very good strategic partner; and the Chinese are showing more interests in the development of the African economy.
Their activities on more strategic sectors, and building highways and rail roads are examples which could benefit the continent, and help her at the end to build a strong home market. Secondly, African countries could mobilize internal and external resources by issuing special state bonds, which could be allocated in areas whose multiplier effects are great. Therefore it is very important to create new financial instruments and organizing a capital market which help to mobilize the existing money from within.
Scholars like the African Executive (AE) writer Mr. Moses N. Masibo have recommended some insights. According him, Africa's scholars ought to make communities discover the potential in resources surrounding them. Moreover, Mr.Masibo says that the media should do research; identify existing resources, unearth underlying obstacles to exploitation of natural resources and change perceptions that discourage resource exploitation. In Africa for example, it is believed that mining is a very expensive and complicated venture. As a result of this mindset, mining has been left to multinational companies.
Above all, African countries have reduced poverty when they have implemented the right policies, and when foreign governments have taken supportive measures. AID has been at best marginal to this effort, and at worst has frequently undermined it. In short, "What Africa needs to be weaned from AID dependency to stick and work on the principle of self help and or self reliance.. A child should not be on the feeding bottle all his life. The child has to grow and eat solid food. If Africa dwells on the milk bottle of AID, it shall never develop."