8th Annual YPFDJ North American Conference 2012 TORONTO, ON. Canada August,23-27.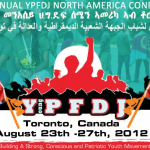 What is the YPFDJ conference ?
YPFDJ hosts an annual youth conferences where young Eritreans from around the world meet to exchange their ideas and share community development and back home project experiences. YPFDJ conferences offer a platform to showcase and assess the work carried out by the youth organizations all over the world; it allows Eritrean youth to learn and interact with Eritrean leaders about Eritrea's internal and foreign affairs. It is a unique platform organized by the youth with the help of the Eritrean community that allows like- minded Eritrean youth to work with each other, ask questions, share resources and opportunities. It is also a community of young Eritreans whose members work together and support each other for a noble and common goal (to build a strong conscious and patriotic youth movement). Annual YPFDJ conferences are held both in Europe and North America. The first European YPFDJ conference was held in Germany and the first one in North America was held in Washington DC. This year Toronto is hosting the 8th Annual YPFDJ Conference and is doing so for the second time.
Who should attend ? 
The first requirement for attending the conference is age, the conference is for Eritrean youth between the ages of 18 to 39. You should attend the conference if you meet the age requirement and if you find the following
conference benefits to be valuable to you:
1. Receive updates from Eritrea on current affairs and other developments from Eritrean leadership.
2. Learn about ways youth can get involved in the development of Eritrea from Eritrean leaders.
3. Learn about ways youth can get involved in the development of Eritrea from other diaspora Eritrean youth (brain gain).
4. Learn from the experiences of other Eritrean community leaders in developing local Eritrean communities.
5. Have intensive debate sessions in break-out groups to come up with creative solution.
6. Network and meet 100s of other successful and educated Eritrean youth from around the world (Canada, America, Europe and Eritrea)
7. Become inspired to make a difference.
Why is the YPFDJ conference important ? 
The YPFDJ conference is the only successful platform for Eritrean youth, organized by Eritrean youth. This platform provides Eritrean youth from all over the world an opportunity to network, discuss common problems and
potentially collaborate on future projects that can have local and global impact. It has proven to be a successful platform that allows Eritreans to express their Eritrean identity through concentrated and coordinated
activities.
How can you help ?
You can help by passing this email to anyone and everyone you know that would be interested in attending the 8th annual North American YPFDJ conference. We are also always looking for passionate and talented Eritrean youth who would like to help make the conference a great success. We need talented individuals in areas of PR, marketing, graphics design, web development, creative writing and etc… If you are such a person, please email us at ypfdjtoronto_at_gmail.com.
Sincerely 
YPFDJ British Columbia Chapter 
YPFDJ Goal and Purpose 

Our goal is to build a strong, conscious and patriotic youth movement. 
Our purpose is: 
To raise the awareness and level of organisation of Eritrean youth to serve our nation 
To reassert the identity, patriotism and unity of Eritrean youth 
To promote the participation of Eritrean Youth in the national reconstruction of Eritrea as well as guarding the sovereignty of Eritrea 
To enhance the position and influence of Eritrean Youth in their respective countries of residence.